Marx Was Right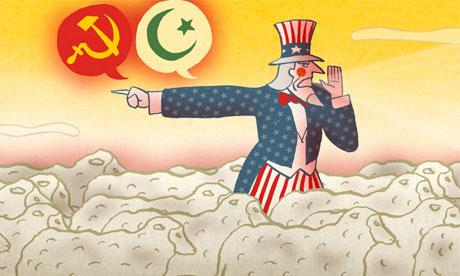 "The west wasted trillions in needless conflict with the USSR" and now is "being brainwashed into confrontation with Iran," writes
The Guardian
's Simon Jenkins —
We are fighting Islamism from ignorance, as we did the cold war
.
Karl Marx
's quip, "History repeats itself, first as tragedy, second as farce," comes to mind.
Mr. Jenkins is right that at least it can be argued that "the cold war was a good war, a Manichean struggle between competing visions of how to order humanity." (He demonstrates how it was, in reality, "one of the great mistakes of all time, and a horrific waste of resources.") What hardly even needs to be argued is that the conflict "against political Islam... was caused by western leaders exaggerating a threat from a tiny group of terrorists to win popularity in war."
The only thing more dumbfounding than the fact that neocons like
Sick Rantorum
continue to sell this nonsense is that a significant number of citizens are still buying it.
Labels: Al-Islam, America the Beautiful, Commies, Neoconnerie, War and Rumors of War, Western Civilization