Something Right About the Honorable Tulsi Gabbard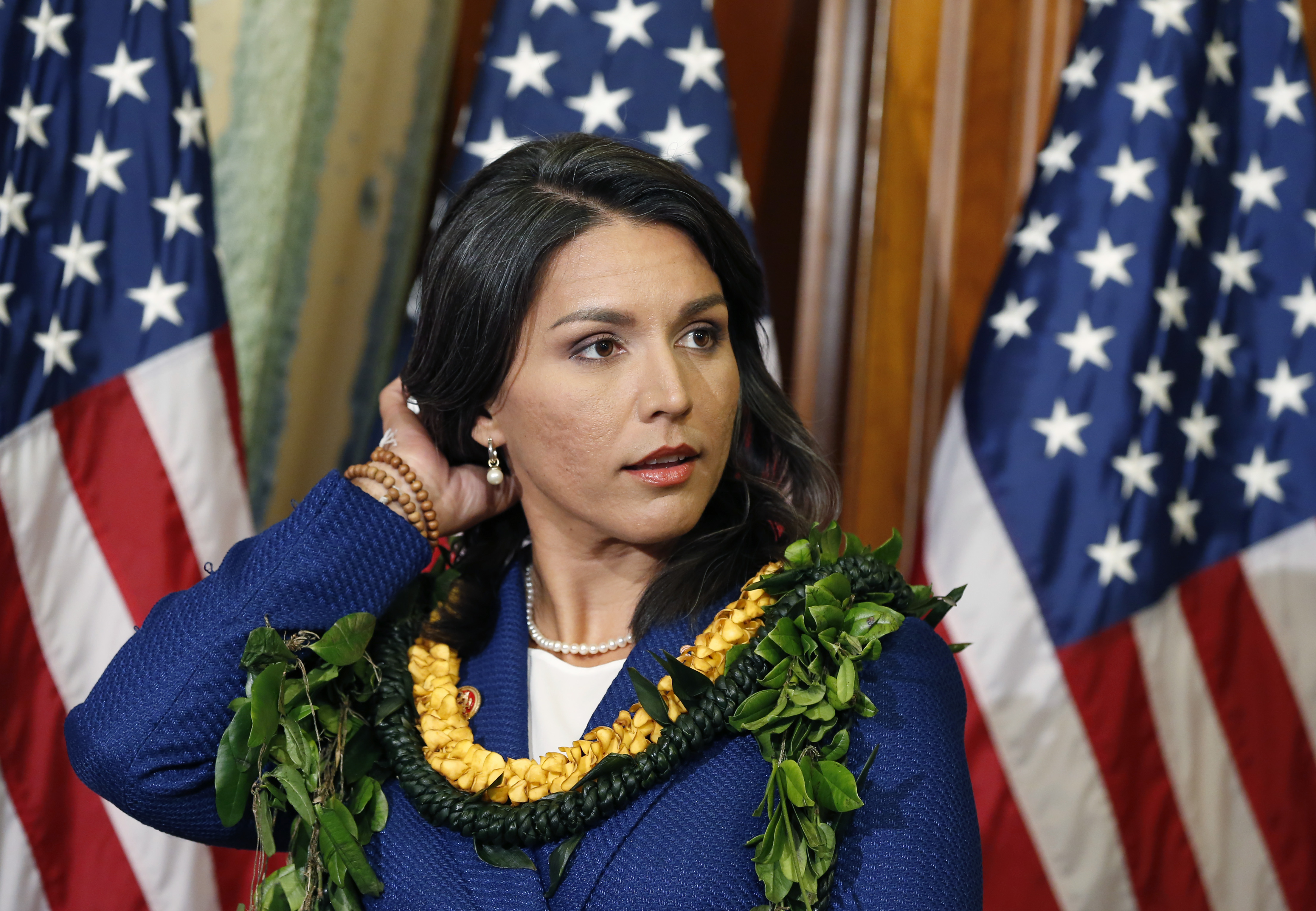 I first heard the name of the congresswoman from Hawai'i a few weeks ago with this story —
Tulsi Gabbard Will Deploy With Fellow Vets to Stand With Standing Rock
.
Today, I read again the Democrat's name as having "introduced legislation to curb Pres. Obama's pro-terrorist policy, calling it the Stop Arming Terrorists bill (H.R. 6405)" —
Godless, Shameless Anti-Christian Neocons in the West Should Learn Real Tolerance from Syria's Pres. Assad
. More:
In an outright condemnation of Obama administration's covert policy of aiding the Takfiri terrorist groups — ISIS and al-Qaeda for the purpose of overthrowing the Syrian regime, Rep. Tulsi Gabbard (D-HI) introduced legislation to curb Pres. Obama's pro-terrorist policy, calling it the Stop Arming Terrorists bill (H.R. 6405).

Congresswoman Gabbard is a member of the House Armed Services Committee and House Foreign Affairs Committee. She has served two tours of duty in the Middle East, and continues her service as a major in the Army National Guard.

In a December 8 press release, Gabbard said, "Under U.S. law it is illegal for any American to provide money or assistance to al-Qaeda, ISIS or other terrorist groups. If you or I gave money, weapons or support to al-Qaeda or ISIS, we would be thrown in jail. Yet the U.S. government has been violating this law for years, quietly supporting allies and partners of al-Qaeda, ISIL, Jabhat Fateh al Sham and other terrorist groups with money, weapons, and intelligence support, in their fight to overthrow the Syrian government."

Specifically, she named the CIA, saying, "The CIA has also been funneling weapons and money through Saudi Arabia, Turkey, Qatar and others who provide direct and indirect support to groups like ISIS and al-Qaeda. This support has allowed al-Qaeda and their fellow terrorist organizations to establish strongholds throughout Syria, including in Aleppo." Later while addressing U.S. Congress, she didn't mince her words making similar remarks on the House floor.
My interest piqued, today I learned of "the second time in recent weeks that Gabbard has not signed onto a letter critical of the incoming Trump Administration that was generated by her Democratic colleagues," the first being her not having "signed a letter to President-elect Trump denouncing his selection of white nationalist Stephen Bannon to be 'chief strategist'" and the second reported on in this story —
UPDATED: Why didn't Hawaii Rep. Tulsi Gabbard join Democrats in asking Secretary of State to protect State Department employees from Trump Administration?
There's even more
right
about her, as this
shitlib
Talking Points Memo
, denouncing her for not denouncing "the number of generals Donald Trump is putting in senior cabinet positions," notes —
Something Disturbing About Tulsi Gabbard
:
Gabbard has something of a dissident stance within the Democratic party. She resigned from the DNC during the primaries over claims of bias against Bernie Sanders. She very conspicuously met with President-elect Trump a couple weeks ago. She's very critical of President Obama's foreign policy which she calls a "neo-con" foreign policy.
Wikipedia
tells us that
Tulsi Gabbard
"is the first American Samoan and the first Hindu member of the United States Congress" and "is a vegetarian and a Hindu who follows
Gaudiya Vaishnavism
," a.k.a. "Hare Krishna."
About her future political prospects, her being born in
American Samoa
to a naturalized citizen should not impede her taking the highest office in our land, given its current occupant's birth.
Labels: America the Beautiful, Hinduism, Indian America, Neoconnerie, The Kingdom of Hawai'i, The Pacific, The Trumpening, Vegetarianism, War and Rumors of War