Morrissey Performs "There Is A Light That Never Goes Out"
The finale from
Who Put the M in Manchester?
to honor a
Mancunian
who dares speak truth to cowards in power —
Morrissey Rips British Politicians after Manchester Attack: 'Petrified' to Admit Islamic Extremism Behind Terror
. "The anger is monumental," said
The Smiths
frontman, asking, "For what reason will this ever stop?" He continued:
Theresa May says such attacks "will not break us", but her own life is lived in a bullet-proof bubble, and she evidently does not need to identify any young people today in Manchester morgues. Also, "will not break us" means that the tragedy will not break her, or her policies on immigration. The young people of Manchester are already broken - thanks all the same, Theresa. Sadiq Khan says "London is united with Manchester", but he does not condemn Islamic State - who have claimed responsibility for the bomb. The Queen receives absurd praise for her "strong words" against the attack, yet she does not cancel today's garden party at Buckingham Palace - for which no criticism is allowed in the Britain of free press. Manchester mayor Andy Burnham says the attack is the work of an "extremist". An extreme what? An extreme rabbit?

In modern Britain everyone seems petrified to officially say what we all say in private. Politicians tell us they are unafraid, but they are never the victims. How easy to be unafraid when one is protected from the line of fire. The people have no such protections.
Never that big of a fan of the man's music, I never thought I'd say he looks tough: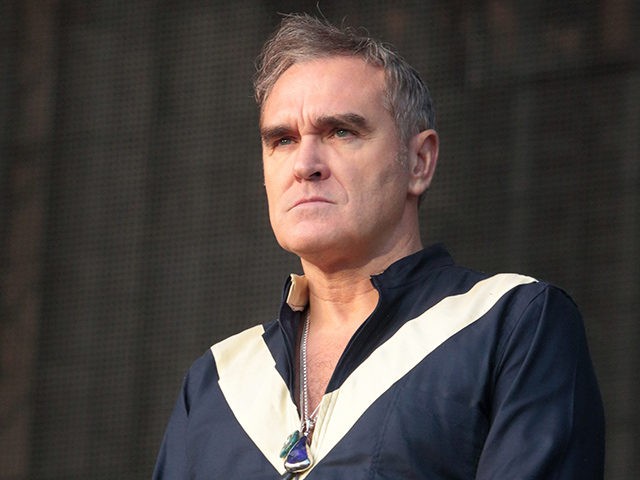 Hilarious how
Spin
tries to spin the story —
Morrissey Says Something Predictably Dumb About the Manchester Bombing
— and horribly fails, as this sampling of comments, edited for punctuation and grammar, shows:
Dumb? It was the wisest statement of the day. Fuck you, SPIN.

[....]

Agreed. Who the hell is this dumb journalist?

[....]

Agree. Morrissey's statement didn't seem 'jumbled' at all to me - indeed, Morrissey was more to the point than any of the deluded multiculturalists or cowed establishment.

[....]

Plain words with plain meanings scare some people.

[....]

Manly words from a British man.

[....]

One of the few celebrities to say how we actually feel.

Of course the liberal press would shoot him down for daring to mention the elephant in the room.

Contrast his sincere heartfelt sentiment with the usual virtue signalling from those privileged enough to not have to experience the cultural enrichment of having your child slaughtered in the street such as author Jamie Tworkowski, "Thought of the Day: I would rather hang out with Muslims and refugees than alt-right white Twitter trolls."

[....]

Why is he being "dumb"? He has the right to express the frustration that many people are feeling right now. Politicians (also from Brussels) wants open borders, because they are not like common people, who are the ones who suffers this kind of violence at first hand. If you people keep delusional be ready to say goodbye to your most beloved freedoms. We are dealing with something never seen since Nazism...

[....]

Morrissey nailed it. Unlike the idiots at Spin.

[....]

You know what, I didn't used to like Morrissey....until now.

[....]

Someone give him a position in the government!

[....]

What the hell was "dumb" about that? We are ALL targets for these trash! They want to kill us all and all we get is hand wringing, empty gestures, futile hashtags, and dumb leftists finger wagging and condemning those who dare to speak out against what is going on thanks to the tyranny of political correctness. 22 people, some of them kids, lie DEAD in the MORGUE, their bodies ripped and torn apart. Angry? Damned right we are! Stop your empty, futile virtue signalling and let's start recognising this for what it is! War!

[....]

Dumb? You mean his genuine, logical reaction to yet another mass slaughter in Europe? Love and prayers won't reform the cancerous ideology behind these acts. Logging on social media and posting some cookie-cutter response that a PR expert wrote doesn't do shit to address the issue and it doesn't engage the public in any way. Should be pretty obvious by now that both left and right-leaning citizens in Europe want an end to mass-scale immigration and crime at the hands of immigrants. The longer you useful idiots in media try to deflect, the worse the backlash against you (and the state) will be.
Labels: Albion, Mohammadanism, Popular Music, Terrorism